Posted by Admin on 12th May 2016
At Aqua Art, we strive to make every custom pool mat project that we create, an impressive and memorable creation. It's obviously the intent of our client to make a statement that will be indelible in the minds of the audience for years to come. But, and perhaps we're a little biased when we say this, we believe that every piece of swimming pool art that we develop is impressive in and of itself. Why? Because we know just what goes into every pool art creation that we build. We've done some pretty impressive work for our valued clients and have helped bring their vision to life at the bottom of pools throughout the world. We've installed displays in swimming pools in some of the best resorts and hotels, at the finest golf clubs and aboard some of the most luxurious cruise ships on the sea. We've put together a small list of some of the aspects of our custom pool mat that we think are pretty impressive. Check 'em out.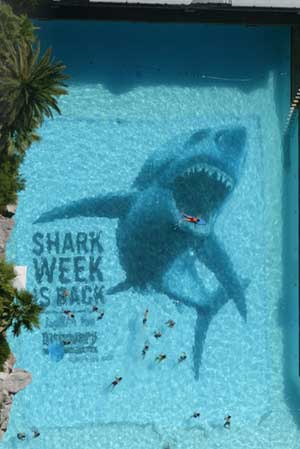 We created the world's largest underwater advertisement for Discovery Channel's promotion of Shark Week. The 6,500 square foot installation dominated the guest pool at the Mandalay Bay Resort & Casino in Las Vegas and was seen by thousands of hotel guests.
Underwater divers and specially-trained installers position the larger custom pool mats so that they appear seamless and are placed correctly.
Some of the world's biggest companies have commissioned Aqua Art to create pool art for their events. These companies include Heinz, Hooters, Playboy, The Los Angeles Lakers, The NCAA and Toyota.
Our installations are welcome at sporting events that include the Conoco Phillips USA Swimming National Championships and the Mutual of Omaha Pan Pacific Championships.