Whether you're the proud owner of a private backyard pool or are the manager or owner of a resort pool and lounge area, creating a welcoming and inviting environment around your pool is almost as important to the use of that pool as the design of the pool itself. By creating a space that is comfortable and relaxing, you can rest assured that all guests who experience your pool deck area will enjoy their time there. Try enhancing the aesthetics of your pool deck and surrounding areas with the following elements:
Landscaping - Though you want to mitigate the chances of your pool being inundated with leaves and other plant detritus, greenery and color around your pool not only adds natural beauty but provides for shade during hot summer days. Taller and fuller plants can also be utilized to provide privacy and hide less-than-attractive pool equipment or ac units.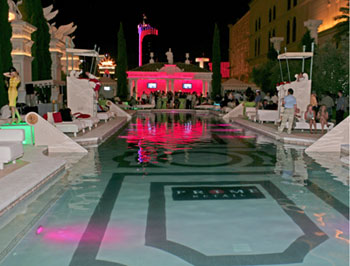 Decor - Adding your unique touch to your pool and deck is easy with a variety of pool accessories and creative touches. Aqua Art's custom pool mats take the decor theme of your outdoor space and turns the bottom of your pool into a canvas. Simply lay down the swimming pool art and beautify what is normally a blank and boring space. Add finishing touches with water and fire features, attractive decking material and other elements that add to your theme.
Seating- Comfort is key when relaxing poolside so make sure to provide plenty of seating and lounging areas. We love teak furniture for its unmatched natural beauty as it's extremely durable and naturally water-resistant. Check out Aqua Teak's extensive selection of outdoor teak furniture for a beautiful, natural touch that blends in with any space decor.
Lighting and sound - Night-time pool use can be both soothing and romantic with the right lighting. Whether you prefer tiki torches, heat lamps or solar-powered landscape lighting, illuminating the porch and deck area of your pool not only makes it attractive but adds to the safety element also.